The online English grammar check facility by Grammarly is, in my experience, by far the best software to check English grammar online.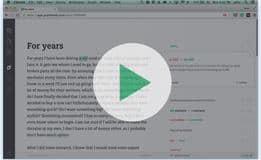 It will instantly check over 250 types of grammatical mistakes, correctly spelled words used incorrectly are checked e.g. lose/loose or affect/effect and enhance sentences in your documents with alternative word choice suggestions.
When using the grammar checker one can either drag and drop your text file or copy and paste a paragraph or whole text into a box and the grammar checker will check your text. Alternatively one can simply upload a file from say MS Word and carry out a check.
The grammar checker is fully compatible with Word and Outlook and includes a Plug-in for Microsoft Office.
My experience of using Grammarly is that it will find many more mistakes than your word processing software.
The site offers you the opportunity to try it for free.
There are over 4 million users of this product many of whom are leading universities and corporations.
When checked against other similar online software it scored very high in terms of accuracy and definitely helps to improve your writing whatever type of document you wish to check.
It is modern and very easy to use.
Grammarly offers a free 7 day trial however as mentioned above one is able to copy and paste text into the web based checker for free anytime.
There are monthly or annual subscription plans offered as follows:-
Monthly : $29.95
Quarterly: $59.95
Yearly: $139.95
Grammarly provides help and support whenever needed.
In terms of rating I would score Grammarly at 9.5/10
To visit the Grammarly web site please click here or on the Grammarly – Instant Grammar Checker banner on the sidebar.
Do give it a try by using the free offer, you have nothing to lose and much to gain 🙂
Thank you.